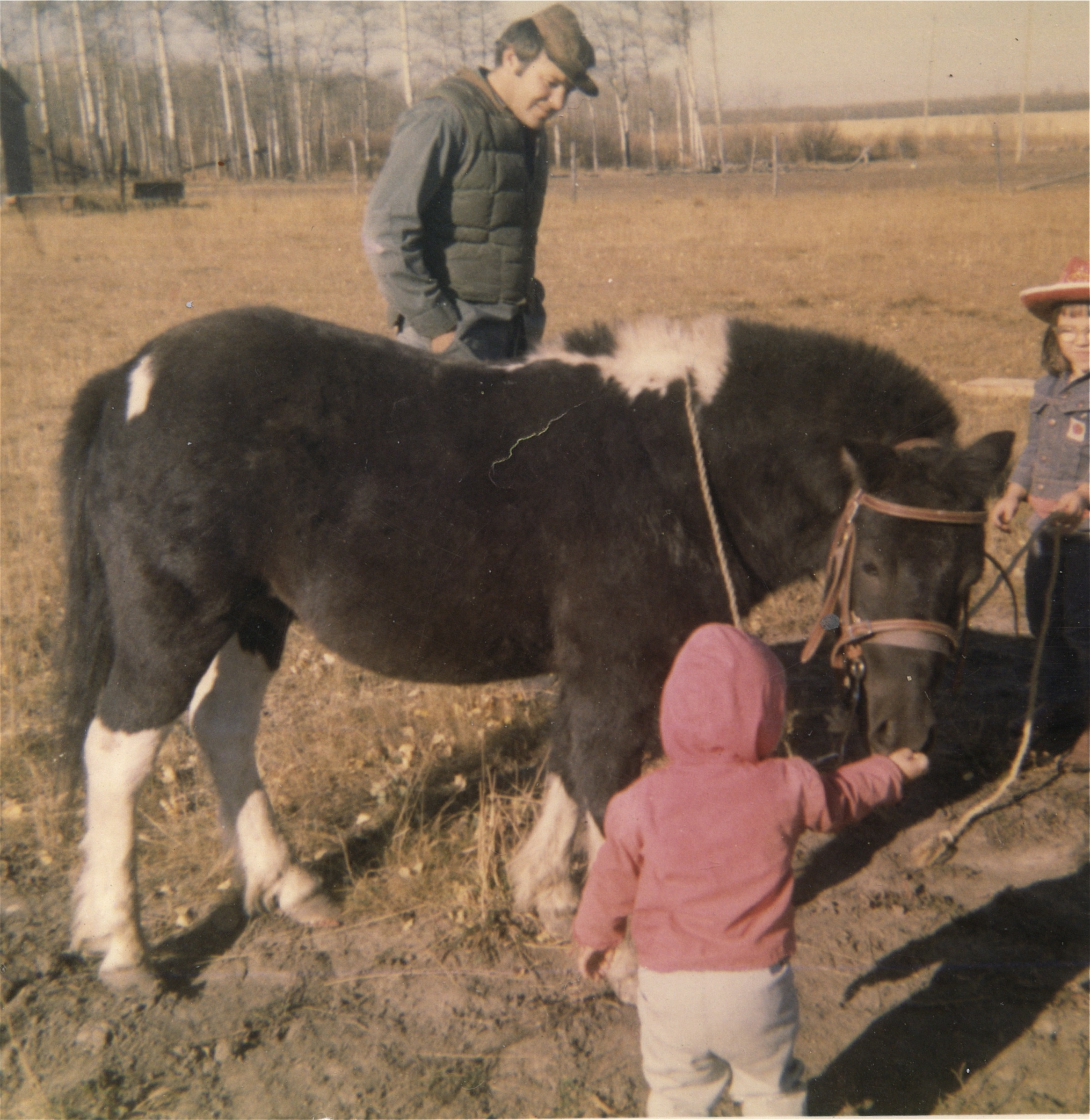 My Dad, our first pony, my sister with her back turned the camera, and me in the far corner…

We are located in Northern Alberta, living a small Farming Community on a 25 acres family oriented small breeding farm. I personally have been riding horse from the age of 4 years old. My sister and I learned how to ride by my dad putting us on a pony bareback and shaking the oat bucket and after we would fall off he would put us back up on the Pony until we learned to stay on…After that we got a bridle and saddle, and were sent on our way. With not much for television, my sister and I spent up to 10 hours a day in the seasons spring through fall, riding through bush trails, chasing down deer, moose as well as the odd bear. :) and looking forward to our weekly Gymkhana Club.

There were no professional lessons, no fancy barns, in our world, Just two kids having fun and learning as we go. Our Punishment was not being able to ride for the day.

From There we started the Rodeo scene , joined the NRA and started Barrel Racing, We used a non papered half Arabian half Welsh Gelding, That boy could turn and run, He qualified me for Finals, but due to reasons beyond our control, we did not go.

At 18 I got married to a wonderful man, but a city boy and it took a few years of training :) but he finally got the fact my passion was horses and has been working beside me for over 20 years. Together we worked with a number of breeds from Stock horses to Miniatures.

In 2000 we acquired Ibn Ben Malik and our endeavour with the Egyptian Arabian began, We are now Striving to breed and raise the beautiful , working type of Egyptians. Our horses are not Barn Babies, and do know what Cold weather is, They live outside 24/7 with shelters, and with the proper feeding program they are very comfortable. Most of our horses are going under saddle and do have experience in trails, arena and fields. We have ventured into the halter shows, and did very well with JM Dream Venture and Supreme. But our main goal is to get them out under saddle in whatever discipline each horse is suited for.

We only breed a couple of mares a year, our babies are taught to lead from three weeks old and are handled daily, they are weaned at 4-5 months and by then are quite independent , at weaning we start taking them for walks in the fields and down the roads, teaching them there whoa and as well we start loading them into the trailer. They always have room to run and play and be kids. :)

We do offer a select few horses for sale occasionally , Please feel free to check out our sales page for horses that may be offered or email us if you see a horse that may interest you.

Feel Free to Contact us for any information OR to just talk Horses.

Coffee is always on!!!

Len and Tracey Burns

Crooked Creek, Alberta

Canada

T0H 0Y0

780-957-2450